| | |
| --- | --- |
| | Doctors of Chiropractic – often referred to as chiropractors or chiropractic physicians – practice a drug-free, hands-on approach to health care that includes patient examination, diagnosis and treatment. |
Chiropractors have broad diagnostic skills and are also trained to recommend therapeutic and rehabilitative exercises, as well as to provide nutritional, dietary and lifestyle counseling.
The most common therapeutic procedure performed by doctors of chiropractic is known as "spinal manipulation," also called "chiropractic adjustment."   The purpose of manipulation is to restore joint mobility by manually applying a controlled force into joints that have become hypomobile – or restricted in their movement – as a result of a tissue injury. Tissue injury can be caused by a single traumatic event, such as improper lifting of a heavy object, or through repetitive stresses, such as sitting in an awkward position with poor spinal posture for an extended period of time. In either case, injured tissues undergo physical and chemical changes that can cause inflammation, pain,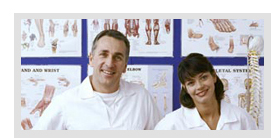 and diminished function for the sufferer. Manipulation, or adjustment of the affected joint and tissues, restores mobility, thereby alleviating pain and muscle tightness, and allowing tissues to heal.
Tension headaches, often called muscle-contraction headaches, may benefit from manipulation that loosens joints and stretches tight neck muscles
How Is a Headache Evaluated?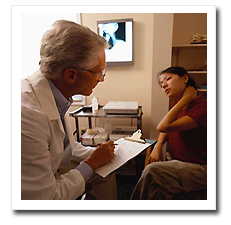 Early diagnosis and treatment are important in identifying a serious underlying cause for your headache. In most cases, an in-depth history and physical examination can help determine if your symptoms are related to an easily treated problem, or if it is more serious.
Your doctor can use other tests that reproduce the symptoms of your headache to help develop a specific management plan for your condition, or refer you to another health care provider. X-rays, laboratory tests and even advanced imaging studies like magnetic resonance imaging (MRI) may be necessary.

Your doctor may ask you to complete a headache diary, recording:
day and time of the headache
headache location
what the headache feels like
what you were doing when the headache began
how long the headache lasts
what makes it feel better or worse
anything else you notice before, during, or after the attacks
What Is the Treatment for Headaches?
Headache treatment is cause-related. Doctors of chiropractic often treat patients with tension-type headaches and headaches caused by problems with the joints and muscles in the neck, as well.
Joint manipulation and mobilization of the neck, along with stretching and strengthening exercises, have been demonstrated to be effective in the treatment of this type of headache.
Massage and other forms of soft-tissue treatment can sometimes be helpful.
Scientists are also investigating other therapies, such as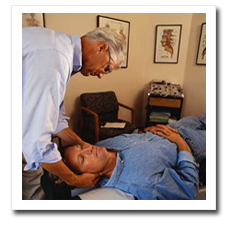 acupuncture, to prevent and treat this disorder. Over-the-counter pain relievers, such as acetaminophen, can be used for an occasional headache, but not for long-term headache management.
More serious causes of headache require aggressive treatment, and your doctor of chiropractic can assist you in finding a medical headache specialist. The majority of patients with headache recover completely after treatment. Unfortunately, the recurrence rate is relatively high, particularly with tension-type headache. If you have any questions or concerns about headache, feel free to discuss them with your doctor or chiropractic.